Introduction
A song against racism packed in the best masterpiece album of Stevie's masterpieces, "INNERVISIONS".
Stevie is already very angry even at the beginning of the song, like

"His father works some days for fourteen hours.And you can bet he barely makes a dollar … "
"His mother goes to scrub the floors for many. And you'd best believe she hardly gets a penny…"
"Living just enough, just enough for the city…ee ha!"


"Living fr the City" by Stevie Wonder (1973)
What an expressive power as a singer to convey the feelings meant in the lyrics straightforwardly by changing the tone of his voice! And, the passionate music directly linked to his emotions! I never think out any other words than brilliant.
The main part sounds rather typically classical R&B, but the bridge to connects such main part brings out tremendous creativity. It's just like melody to express cry of the soul. When I listened to this song, I remember I was also thrilling a little.
Delight, anger, sorrow and pleasure, love and hatred, happiness or misery, whatever, he can express them through sound and melody without words. That's he is a really genuine artist.

Then, let's check the chords up of the song in sheer exasperation!
The intro is omitted because it is continuous with the 1st verse.
Account for chords
1st Verse
The above progression is the ordinary one.
G♭m7 can be replaced by A/G♭,so it goes as below.

It's not anything special. You can see the root is kept as it is, and just right hand is simply slid up and down.
It can be as below in case of the keyboard figures.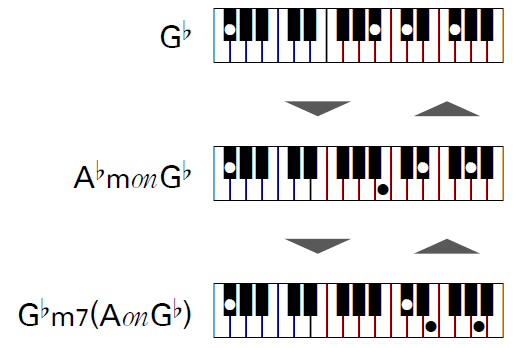 Let's see the figures lowering half tone and write the chords names in Key:G, which may make us come across clearly. Mmm…it doesn't look so changed.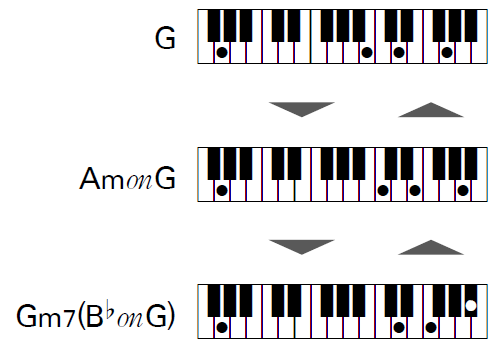 If you have an electronic piano and play the above chords progression, much better feeling can be realized. The rich expressive vocal affects the listeners powerfully, the same chords progression is repeated, though.
2nd Verse
Different chords progress in only 2 bars, and then the previous chords progression comes back immediately.

D♭9 chord emerges suddenly, but you don't need to panic. In fact, also right hand on the keyboard is just sliding up and down actually.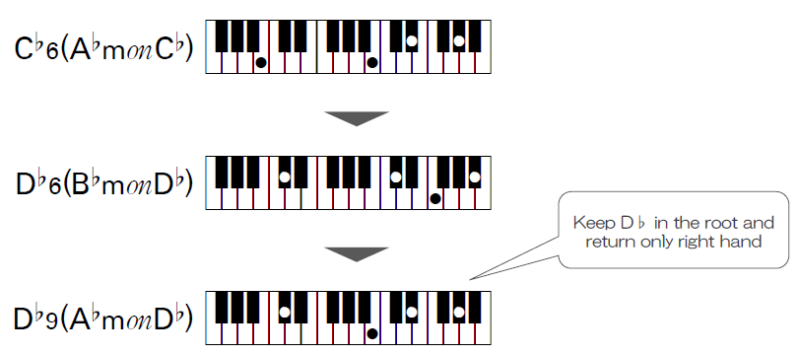 Most of the musical score or the websites present C♭6→D♭6→D♭7. However, taking the nature of this song, which repeats parallel movements of right hand into account, D♭9 is more natural and the 9th note (E♭) sounds firmly whenever listening to the original.
Here comes bridge
Here comes the bridge, which is the part where the soul of this song is put into.

It starts with I/Ⅶ♭right away. C/B♭emerges in the progression. I would say, Stevie is good at using this chord originally. Then, the root started with E goes straight down to G♭. That can be presented in the keyboard figures as below.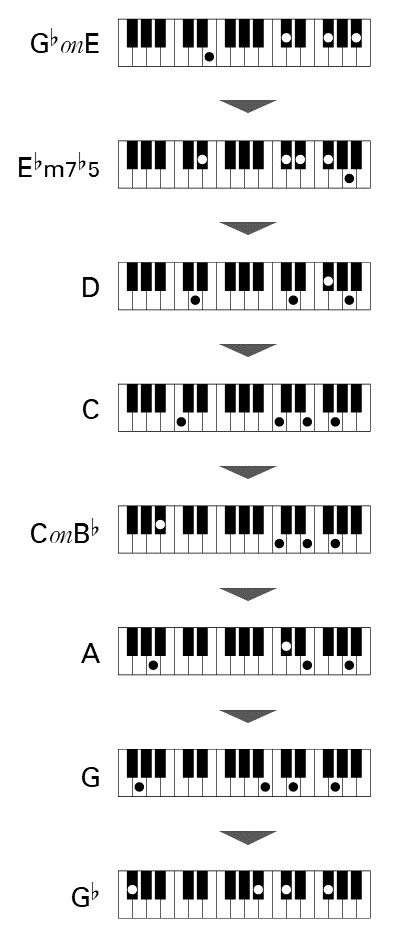 It's a really rare chords progression we can't see often. But, we can't help but sigh to see the beautiful melody through our heads gets on with this chords progression.

I 'm sure it must have been downloaded from the universe.

In addition, synthesizer sounding like brass gets on from the middle of the song and it brings about something restless atmosphere. It can be imaged like something bad incidents happen in the city. An emergent atmosphere like an ambulance siren is approaching in the last part so it can express the world of the song superbly.
Ending
After the bridge the soul of this song is put into is refrained several times, the song goes to its ending.
To be honest, I'm not sure of the chords progression in this part clearly to my apology. It may be A→G6→G/D→G→G/D→G where I may see A→G by right at the end of the bridge. He seemed to take the advantage of the confusion and he didn't ended the song with G♭ but done with G.
At the very end, the song ends with an extremely beautiful harmony of G chord by only Stevie's voice. It no longer feels anger and a ray of hope as "Racism should go out and the world would be better" could be expressed there. How do you think about that?
In Conclusion
In April 1973, a tragic incident 10-year-old black boy was shot and killed by a white a plain-clothes police officer happened and Stevie attended his funeral.
Even today, nearly half a century later of the incident, similar incidents are never ending. It is still fresh in our minds that "Black Lives Matter (BLM)" movement broke out in 2020.
However, I've heard Stevie has been continuing to sing this song at everywhere and every opportunity.
In the above ending section, I wrote the end of this song could express a ray of hope. I think that's why he's been continuing to sing this song wishing hope for so long time.