Introduction
It's the first track on the C side of "Songs in the Key of Life".
Many of you may know only CD media for artists' albums, though, CD was never there but the all albums were doughnut shape record made of PVC, and album "Songs in the Key of Life" consisted of 2 pieces of LP plus 1 small doughnut record for 1 set. That's why, it had special C side.
As you know, this is a work he composed with his precious love to celebrate a birthday of his daughter, Aisha.
No question, I have believed the song must have been a single-cut from the album because it is much popular. But actually, the short version was released a little while after the album.
When I googled a little bit, I found out that Stevie has been married to 3 women in the past, and Aisha is his daughter with the other partner than those 3 women. No, I don't say nothing in particular. I think it's OK.
When it comes to the song, it's a simple and familiar melody with lyrics to express his love for the daughter, He sang it out loudly and proudly.
The best part you should listen to in this song is the long and long harmonica solo that lasts for more than 3 and a half minutes from the second half to the ending. You must feel his play as much love as he can put into and you can be moved gently.
Stevie played almost all the instruments on "Songs in the Key of Life" as usual and this song, too. Some of the small keyboard parts were played by Greg Phillinganes, a master of keyboard play.

A masterpiece filled with love for his daughter, let's check the chords up right now!
Account for chords
Intro
Tracking a baby's birth cry all of a sudden could be innovative, it's not talked about chords, though. Say, the idea may come from freely or flexible creativity.
Tome are keeping up with the bass line following to the chord progression of the 1st verse.
1st Verse
It's repetitive, so it's not necessary to write in two lines. Anyway, it can be presented as below..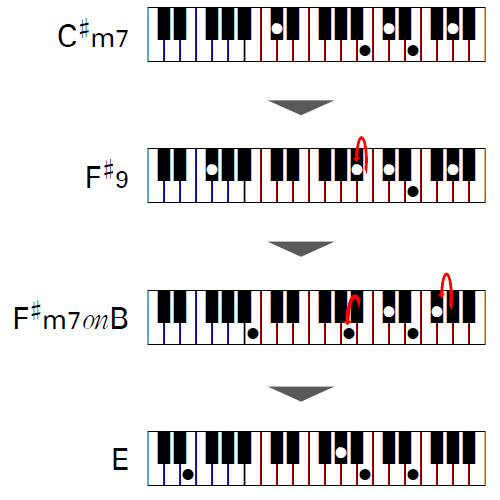 You can't realize it starts with a minor chord, can't you? What a charming melody!
2nd Verse
The same chord progression in the 1st verse continues again after inserting newly coming-up two chords, it's 2nd verse exactly in the song composition, though.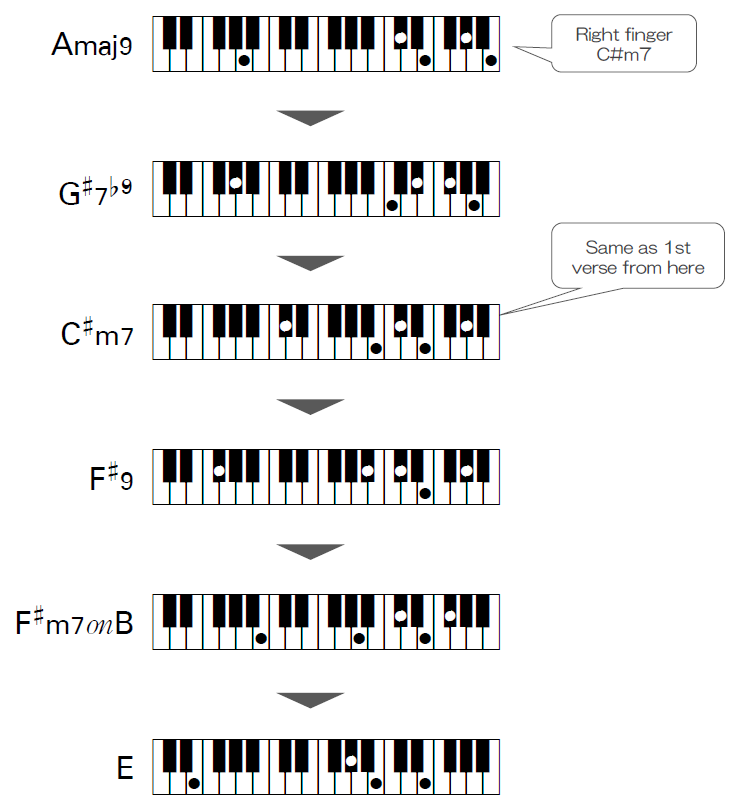 Most of the musical scores or the musical sites show AM7 in place of AM9. But AM9 is adopted here because the melody note is B (9th), and himself uses AM9 for playing the song there actually in DVD video I'll show you later,
Also, some musical scores insert G#7 after G#7♭9. I understand the sense to leave♭9 out because the sound of the lyric "♪Making one…" is G#. However, no matter how I've listened to the original again and again, the chord G#7♭9 remains as it is. So I don't insert G#7 in this blog.
In Conclusion
It's a typically well-known popular song and covered by lots of musician. But when it comes to the chords progression, there's not so much what to be pointed out so the blog can be short eventually.
In DVD "Making of 'Songs In The Key Of Life'" which I introduced in another entry, you can see a scene Stevie says, "I played the harmonica wrong actually, I didn't tell you, though at the time" to the recording engineers and breaks up laughing together with them in the studio replaying the part. Exactly the play was recorded as it was.
Also, Stevie himself says in the video,the birth cry at the beginning of the song was not Aisha's voice but another one recorded with the help of his acquainted doctor . The voices coming out in the interlude are Stevie's,AIsha's,and her mother's, though.

What your parents left you, and what you want to leave to your children.
I'm sure everyone has something or thinks about it. What a great treasure Aisha was gifted!